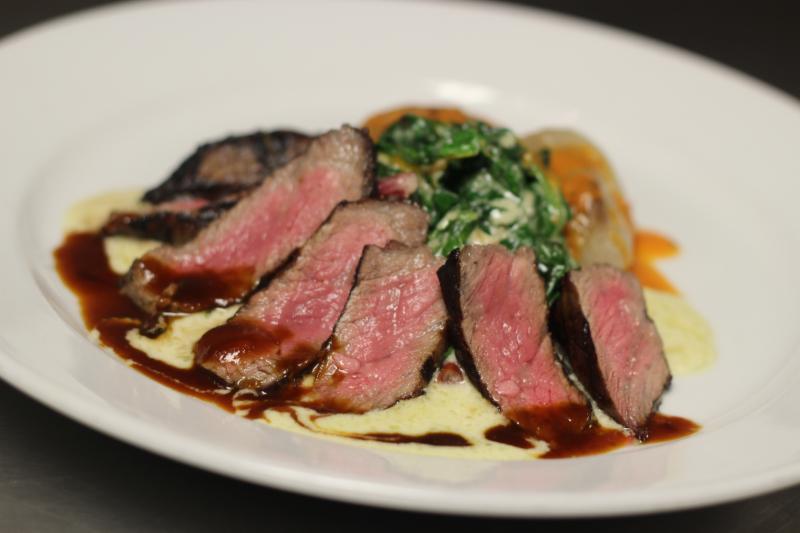 The joke typically goes that you can tell it's fall in Naples when the colors on the license plates start to change color. We may not have the glorious golden and crimson hued leaves that make fall in the northern states so magical, but there is much to celebrate in the changing seasons here! Among them, exciting new things in and around Ridgway Bar & Grill.
Daily, from 4:30-5:30pm, enjoy our early dining menu, consisting of the wonderful 3-course Prix Fixe you hopefully enjoyed with us over the summer. For the exceptional value of $35 per person, get one appetizer, one entrée and one dessert off of our specially designed menu, featuring items you cannot get on any of our other menus, such as the Sliced New York Sirloin with Swiss Chard Gratin and Balsamic-Roasted Onions, as well as favorites such as our Pan Seared Scottish Salmon, New England Clam Chowder and, of course, the best carrot cake in town!
Stay tuned to upcoming newsletters as we feature additional new dishes and dining opportunities!
Our Garden is Growing Again
The annual sprucing up of the garden is underway! October always brings the first planting, with Tony and Wynne overseeing selection and placement of the flowers and other greenery – as well as doing much of the digging themselves! As the temperatures continue to moderate and we move fully into the fall season, it's wonderful to watch it all fill in beautifully. On a beautiful fall or winter night, when the garden is in its full glory and the market lights are shining, a table under one of our arching trees overlooking the flowerbeds is about as good as it gets.
Ridgway's Burger Just Got Better!
Hard to believe, we know, but our beloved burger is now even better, served at both lunch and dinner on our new house-made Parker House rolls. As classic as anything in American cuisine, the rolls were, legend has it, originally conceived of and served at the Parker House in Boston, dating to the 19th century.
As the James Beard Foundation describes them, Parker House rolls should be "delicate, soft, and rather sweet" and "consume butter by the tons." We're confident ours fit that description through and through. 
We are also now offering
à
la carte accompaniments, so you can adorn your burger with your choice of cheese, bacon, sautéed onions, sautéed mushrooms, or any combination thereof to your preference. Come and give it a try! 
Starting this fall, Ridgway Bar & Grill and Tony's Off Third have elected to complete a process that began years ago – with the exception of three tables on Ridgway's front porch that will remain open to smoking, we are officially a totally non-smoking business. While we are sympathetic to the preferences of our guests who choose to smoke, we simultaneously wish to be sensitive to the comfort of our non-smoking patrons. We have weighed this decision very carefully and believe it reflects ongoing trends both in our community and beyond. Those who wish to smoke may still do so along the sidewalk at their convenience.
Brunch Updates
One week in on our updated Brunch menu and we already have new favorite: Grilled Brioche with Banana and Nutella. If there was anything that could make brunch better and more indulgent than it already is, this could be it. Get it to share, or fend off your friends who will be jealous that you ordered it for yourself. It's a little like having dessert first, a practice we wholeheartedly support. It's a whole lot like the best thing we've tasted in a while.
And stay tuned – we're only two weeks away from Saturday brunch at Ridgway restarting for season on November 5, in addition to our year-round Sunday brunch. Saturday brunch is the perfect complement to your weekly Farmer's Market trip, as you enjoy the beautiful setting of Third Street South and Ridgway Bar & Grill.
The Holidays are (Nearly) Here!
The summers have a way of flying by, leaving the holidays not as far off as they may feel. In just a month, on November 21, we will welcome the Third Street Tree Lighting – always one of the best and most popular events of the year in Old Naples – with Thanksgiving just on its heels on November 24, which always brings family gatherings and special occasions with friends. Don't wait to call for your table! Both the Tree Lighting and Thanksgiving will sell out, and we don't want you to miss your chance to celebrate with us.