Reminders!
Tony's Off Third Bakery Tasting
Don't forget
Tony's Off Third
's free bakery tasting, tomorrow, April 28, from 3-6pm. Come by and sample some of our favorites. No RSVP necessary. We just want to see you and say hi and thanks for being a loyal Tony's customer!
Crispy Fish
Crispy Fish Friday is here! This Friday, April 29, during dinner service at Ridgway. Call ahead and reserve your order. There's a reason Chef Tony has kept this dish going for 40 years. And keep in mind the rest of the fabulous
summer offerings
in Ridgway and Tony's going on now – scroll down to read more.
Mother's Day Reservations
Ridgway Bar & Grill
is excited to be participating in the upcoming
Naples Restaurant Week
, from May 5-15. New to Naples, but a proven phenomenon in countless cities around the U.S., Restaurant Week provides a fun opportunity to dine out at your favorite local spots as well as try out some new destinations. We will offer a 3-course, prix-fixe
menu
at $35, available during dinner in Ridgway or the Courtyard. Call us to make your reservation today!
Just as a side note, this special menu will not be available on Mother's Day. We hope you'll agree, Mother's Day is special enough on its own!
Count the Corks, Win a Bottle of Wine!
Have you seen our new sign? Our own Ronda made that for us by hand and we think it looks just perfect hanging on the back wall on the side patio. We thought we'd celebrate this crafty creation with a little giveaway. Over the next week, submit your best guess for how many corks Ronda had to use, and the closest estimate will win you a bottle of wine! Send us your guesses by email or look for the post on our
Facebook page
and comment there.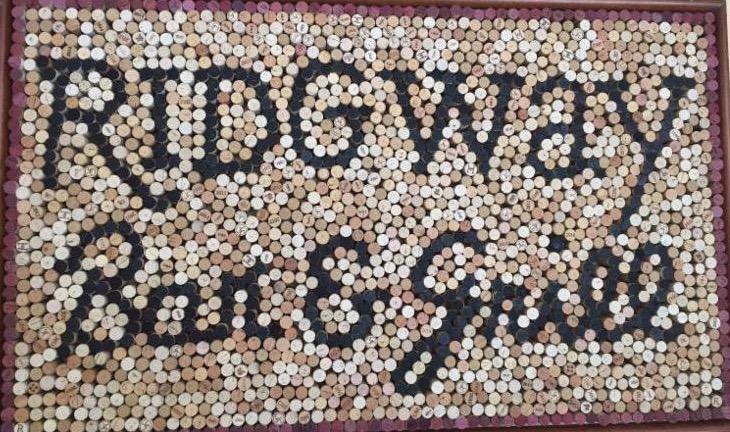 There's been an interesting news article circulating recently which has really caught my attention. Laura Reiley, food critic with the Tampa Bay Times, wrote a fascinating – and extensively researched – piece entitled '
Farm to Fable
,' about the pervasive mythology behind so many purported farm-to-table restaurants. The reality that Ms. Reiley found, in many cases, was that claims about local purveyors and sustainably raised product were not supported by evidence. In some cases, suppliers themselves directly debunked the assertions, confirming that they have not worked with the restaurant in question. Or DNA testing proved that the product served was not what the menu promised. All in all, very disconcerting.
Which is not to say that I am surprised. After 45-plus years in this business, I can say that I have pretty much seen it all. My commitment to you has always been and will always continue to be to source the best ingredients and prepare with them respect. My philosophy has always been, to put it simply, to buy good food and don't mess it up. Flavor and quality will necessarily follow.
In the past when I have had good local sources for certain ingredients I have used them, but it's not feasible on a long-term or high-volume basis. Agriculture, on a local level, is necessarily seasonal. Indoor growing and new technologies have extended growing seasons, but they simply can't be year-long, not the way Mother Nature designed the system.
When you come to Ridgway, you know you are getting what the menu advertises. At
Tony's Off Third
, we make all of the breads and desserts served in Ridgway. The rib dinner we debuted to great applause this past weekend as a part of our summer specials? Julian and I spent hours testing recipes and different ingredients to get the dish to a point where we knew it was exceptional. Much of our seafood is from Florida waters, because we are blessed with terrific resources in our region. But local is not my first priority. My first priority is taste – your food should taste good! And that is followed immediately by value. I want you to come to Ridgway because you know that I stand 100% behind what we offer. It may not be the trendiest, but I promise you it's good.
Looking forward to seeing you around the restaurant this summer!
Your Friend,
Tony
Summer Dining
The basic rundown is:
Sunday – Ice cream sundaes complimentary with your dinner entrée
Monday – $2 cookies from Tony's cookie jars
Tuesday – $3.50 pork tacos (the best!) at Ridgway Bar or in the Courtyard
Wednesday – Get one free beer of your choosing with any burger order
Thursday – Every 2nd Thursday of the month, we'll be testing a new dessert from our bakery; $5 with your dinner entrée
Saturday – 1st an 3rd Saturdays, wine flights, featuring 3 wines at $15 (a $24 value)
Saturday – 2nd and 4th Saturdays, Rib Dinner – see what all the fuss is about!