2-for-1 Margarita Saturdays!
Starting July 30 and running through the month of August, join us at our Upper Deck bar and enjoy 2-for-1 margaritas every Saturday night.
Bring your friends, and pull up a chair in our comfortable lounge or at one of our highboy, umbrella tables. The vibe is relaxed, the views just don't quit, and we hope you'll make a happy memory or two with Bayside for the backdrop.
The Many Sides of Bayside
Upstairs, downstairs. Inside or out. Casual and a little more elegant. Bayside offers you a whole range of options for where and how you want to dine with us. Happily, all but our Vintner's Room that is co-located with
Sukie's Wine Shop
deliver the same exceptional bay views, and throughout the restaurant you'll get the same great food and service with John, Jennifer and their team overseeing the front of the house, and Abel running the crew in the kitchen. Just as a refresher, a quick rundown on all the different dining options at Bayside:
Our Café downstairs is a casual, low-key spot to grab a late lunch or dinner. A great option year-round, and particularly useful in the summertime when the regular storms threaten our outdoor bar. A full bar is at your service, and the menu offers casual favorites as well as a few more refined selections.
Our second-floor Grill is your destination for an elegant lunch or dinner, celebrations of major (or minor!) milestones, holiday gatherings, or just because. The dinner menu offers a full complement of appetizers and entrees, with a focus on seafood but with plenty of options to appeal to any appetite.
The open-air Upper Deck offers lunch and dinner as well as full bar service. One of the most popular spots in all of Naples to spend an afternoon or evening. Table service shares menus with the Grill, and there is also a separate bar menu.
Sukie's Wine Shop just adjacent to our main entrance also houses our Vintner's Room, an elegant setting for private parties of up to 24 people. The space is intimate but welcoming, and in less than two years since its opening has become a sought-after spot for social and corporate events.
Bayside is open 365 days a year, and
reservations
are always accepted. We are just as happy to welcome the party of one or two for a quick supper at our bar as we are to help you plan your next big event. Join us, and see a different side of Bayside!
Thank You For Your Votes!
At the recent SWFL Choice Awards, sponsored by the Naples Daily News, Bayside was awarded as the silver recipient in the category of favorite restaurant with a view. This award was 100% on the strength of your write-in votes, and we are humbled by the acknowledgement! If we've said it a thousand times, it's not enough – we love our Bayside family and friends, and are so appreciative of your support
Craving Fashion
Bayside is excited to be participating again this year in Craving Fashion on September 23. This event, in its 4
th
year, is hosted by Waterside Shops and Entrée Magazine, and benefits Make-A-Wish Southern Florida and the United Way of Collier County. More than 40 local restaurants will participate, guaranteeing a great night of good food in a beautiful setting! More information and tickets are available
here
.
Let's Hear it for Lunch!
Of the three main meals of the day, no question that dinner tends to earn the lion's share of the buzz. Monday to Friday, breakfast may wind up as more of a grab-and-go afterthought, but climbs to a place of prominence on the weekends when it assumes the elevated status of brunch. And lunch? It's awfully easy for lunch to get lost in the shuffle. A quick sandwich here, a sad salad there. We feel that lunch has the potential to become a much more interesting and memorable part of your day.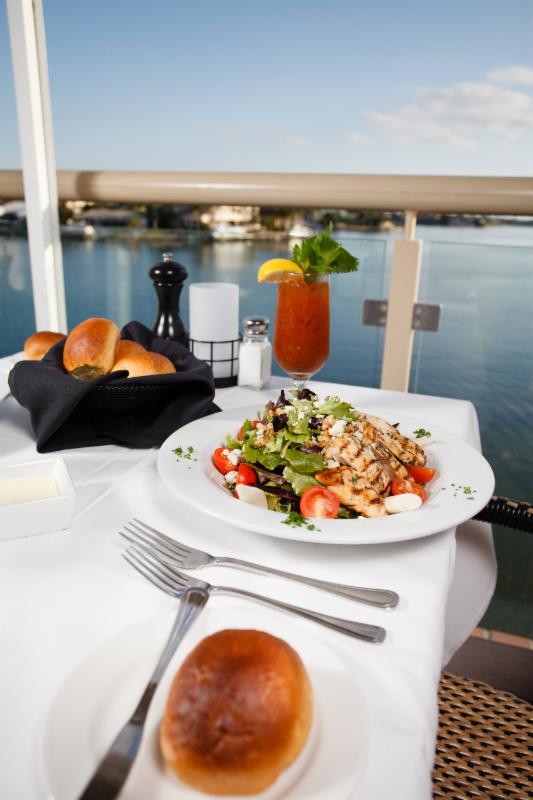 Have you ever tried our coconut shrimp salad? With crunchy and flavorful fried shrimp, topped with almonds, oranges, hearts of palm, and a sweet & spicy vinaigrette, it's a popular favorite. 
Another mainstay of our lunch menu is our signature Bayside salad. A simple preparation of grilled chicken with tomatoes, walnuts, red onion, and gorgonzola cheese with a classic balsamic vinaigrette, it makes for an easy and satisfying meal. 
When in the mood for something a little heartier, look no further than our black bean soup, a long-time go-to at Bayside, served with chorizo sausage, scallions, tortilla strips, and sour cream. 
Y
ou can never go too far wrong with our prime cheddar burger, or our classic fish and chips. All of this and more, prepared with Bayside's legendary quality. Take a stand with us in favor of lunch!  
Holiday party planning – it's not too early! 
If the idea of Christmas in July gives you more than a little pause, just a quick note that we already have holiday parties being confirmed. Make sure that you get your date of choice for your family or company gathering this upcoming holiday season, whether for cocktails and appetizers, or a full sit-down dinner. Jennifer is always available to work with you to plan the perfect celebration, down to every detail! Give us a call at (239) 649-5552 or send Jennifer an
email
.